Plants with Green or Brown Flowers
Green or brown flowers are most often found on plants that are not insect-pollinated and generally have rather small petals. Many of them are wind-pollinated and so do not need to advertise their wares with bright colours. This section also includes a number of plants with flowers that are completely petalless (thus appear green) or plants whose flowers may be tinged reddish or whitish in colour but appear insignificant because they are so small.
As well as flower colour, it is important to take careful note of the exact petal shape (where they exist!) - are the petals rounded, or do they came to a sharp point, for example; are there gaps between the petals or do they overlap; are the flowers solitary, or arranged in spikes or bunches.
Within the colour sections, the pictures are grouped so that similar-looking (though not necessarily closely-related) plants will be near each other. This should help to reduce your search time. To keep things concise, not all species are shown in the colour keys, so you may have to go for a 'best match' to get you through to the next stage of the identification process. Particularly in large families where there are a number of very similar species, a representative species is shown here, but clicking on it will take you to a page that tells you how to tell the more difficult species apart.
Many plants will be obviously one colour or another, obviously five petalled, or obviously a woody shrub, etcetera. But many will be debatable. In such cases, I have tried to imagine how a flower might be perceived by others, especially beginners to plant identification. Generally this results in a plant appearing in more than one place on these pages, but some still remain problematic. In particular, the section labelled 'tubular flowers' contains a variety of flowers that might be considered to fall into that category and these generally have petals that are fused together to fully surround the sexual parts of the flower. But these tubes might be elongate like a pencil, or broad and bell-like. Flowers of two colours are entered under the colour that covers most of the flower, but equally bicoloured flowers may be entered under both colours. Woody plants with green stems that might not be considered woody, are entered under their flower colour or shape, as well as under the woody plants sections.
If you still can't find your plant, you either have something very interesting that you may wish to tell me about, or I just haven't got a picture of it yet - I'm still working on the latter!!
Click on the pictures below to go to the species pages.
European
Sweet-flag




Grasses




Grasses




Grasses



| | | | |
| --- | --- | --- | --- |
| | | | |
| Club-rushes | Grasses | Grasses | Sedges |
| | | | |
| --- | --- | --- | --- |
| | | | |
| Sedges | Sedges | Sedges | Sedges |
| | | | |
| --- | --- | --- | --- |
| | | | |
| Sedges | Grasses | Grasses | Spike-rushes |
| | | | |
| --- | --- | --- | --- |
| | | | |
| Galingales | Grasses | Rushes | Rushes |
| | | | |
| --- | --- | --- | --- |
| | | | |
| Wood-rushes | Ferns | Grasses | Nettles |
| | | | |
| --- | --- | --- | --- |
| | | | |
| Club-rushes | Arrowgrasses | Bur-reeds | Pirr-pirri-burs |
| | | | |
| --- | --- | --- | --- |
| | | | |
| Parsley-pierts | Mousetail | Hemp | Water-milfoils |
| | | | |
| --- | --- | --- | --- |
| | | | |
| Nettles | Common Mistletoe | Sea-purslane | Goosefoots & oraches |
| | | | |
| --- | --- | --- | --- |
| | | | |
| Goosefoots & oraches | Spurges | Spurges | Dog's Mercury |
| | | | |
| --- | --- | --- | --- |
| | | | |
| Dog's Mercury | Docks | Glassworts | Plantains |
| | | | |
| --- | --- | --- | --- |
| | | | |
| Plantains | Plantains | Plantains | Buttonweeds |
| | | | |
| --- | --- | --- | --- |
| | | | |
| Mugworts | Wormwoods | Ragweeds | Cockleburs |
| | | | |
| --- | --- | --- | --- |
| | | | |
| Fleabanes | Cudweeds | Raspworts | Pearlworts |
| | | |
| --- | --- | --- |
| | | |
| Gunneras | Bulrushes | Bulrushes |
| | | | |
| --- | --- | --- | --- |
| | | | |
| Travellers-joy | Herb Paris | Moschatel | Mistletoe |
| | |
| --- | --- |
| | |
| Raspworts | Pearlworts |
| | | | |
| --- | --- | --- | --- |
| | | | |
| Beets | White Bryony | Mousetail | Sea-blites |
| | |
| --- | --- |
| | |
| Pokeweeds | Moschatel |
| | | | |
| --- | --- | --- | --- |
| | | | |
| Common Asparagus | Rushes | Common Butcher's-broom | Black Bryony |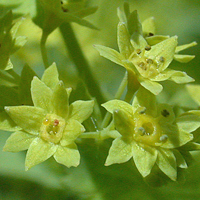 Lady's-mantles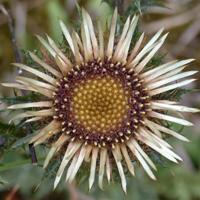 Common Carline Thistle
| | | | |
| --- | --- | --- | --- |
| | | | |
| Lords-and-ladies | Birthworts | Hellebores | Common Pennywort |
| | |
| --- | --- |
| | |
| Common Asparagus | Yellow Bird's-nest |
European
Sweet-flag




Grasses




Grasses




Club-rushes



| | | | |
| --- | --- | --- | --- |
| | | | |
| Grasses | Grasses | Grasses | Sedges |
| | | | |
| --- | --- | --- | --- |
| | | | |
| Sedges | Sedges | Sedges | Sedges |
| | | | |
| --- | --- | --- | --- |
| | | | |
| Sedges | Grasses | Grasses | Spike-rushes |
| | | | |
| --- | --- | --- | --- |
| | | | |
| Galingales | Rushes | Rushes | Rushes |
| | | | |
| --- | --- | --- | --- |
| | | | |
| Grasses | Wood-rushes | Honey Garlic | Pondweeds |
| | | | |
| --- | --- | --- | --- |
| | | | |
| Club-rushes | Black Bryony | Arrowgrasses | Lizard Orchid |
| | | | |
| --- | --- | --- | --- |
| | | | |
| Lady's-mantles | Sand Lucerne | Orchids | Orchids |
| | | | |
| --- | --- | --- | --- |
| | | | |
| Amaranths | Sea-purslane | Goosefoots & Oraches | Goosefoots & Oraches |
| | | | |
| --- | --- | --- | --- |
| | | | |
| Spurges | Pokeweeds | Ruptureworts | Swinecresses |
| | | | |
| --- | --- | --- | --- |
| | | | |
| Knawels | Broomrapes | Fleabanes | Cudweeds |
| | | | |
| --- | --- | --- | --- |
| | | | |
| Ivies | Umbellifers | Eryngos | Common Pennywort |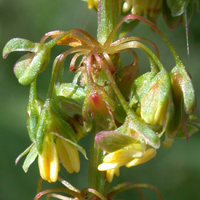 Docks
Travellers-joy




Hazels,
birches and alders




Bog Myrtle




Common Beech



| | | | |
| --- | --- | --- | --- |
| | | | |
| Southern-beeches | Oaks | Sea-buckthorn | Spindles |
| | | | |
| --- | --- | --- | --- |
| | | | |
| Vines & Creepers | Hops | Hops | Currants |
| | | | |
| --- | --- | --- | --- |
| | | | |
| Poplars | Willows | Willows | Ashes |
| | | | |
| --- | --- | --- | --- |
| | | | |
| Ivies | Spurge-laurel | Plane trees | Box family |
| | |
| --- | --- |
| | |
| Box family | Griselinias |