The Spindle Family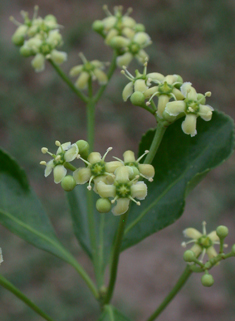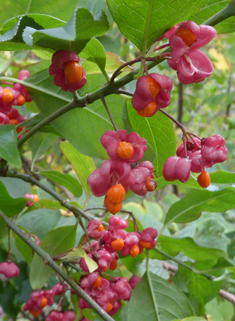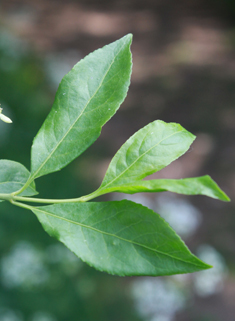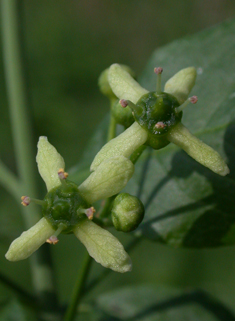 What are they?
The spindles are a group of woody trees and shrubs that are temperate zone members of the Celastraceae, a family that is most common in tropical parts of the world. Sindles are a varied group and contain both deciduous and evergreen species that can look very different to each other. However, their very distinctive fruits can be a useful identification feature to get you to the right family.
Where are they found?
Our one, native species is found in open woodland and on woodland edge and old hedgerows, typically on chalky soil. It is also widely used in mixed hedgerows throughout the region which masks its true native status. Japanese Spindle is widely planted in churchyards and cemeteries as well as in parks and as hedging in urban and coastal regions.
Identification
The two species found in our region are readily told apart as one is deciduous and the other is evergreen. The structure of their flowers and fruits separates them from other plant groups.
European Spindle Euonymus europaeus
A common native shrub of chalky and clayey soils, but also widely planted in new hedgerows, masking its true, native range. Flowers April to June. A deciduous shrub or small tree to 8m in height. Seeds are covered in an orange coating called an aril and are carried in groups of four in pink or red capsules. Young stems are distinctly angled, green and with bark-like ridges on the angles.
| | | | |
| --- | --- | --- | --- |
| | | | |
| Flowers | Flower | Flower | Leaf |
| | | | |
| Fruits | Winter twig | Winter twig | Bark |
Japanese Spindle Euonymus japonicus
Introduced from East Asia as a garden ornamental and very widely planted in gardens, cemeteries and for hedging, especially near the coast. Flowers May to June. A deciduous shrub to 6m in height. Leaves shining, dark green with neatly crenate margins. Fruits and flowers similar to those of European Spindle. Often green in yellow-leaved or variegated forms but these often become wholly green over time in places where they are not tended.
Habit

Flowers

Flower

Leaves

Leaves

Leaf margin

Vaiegated form