Alders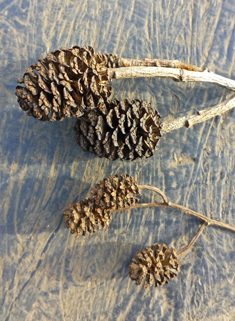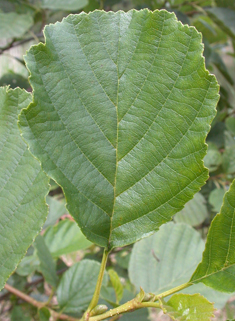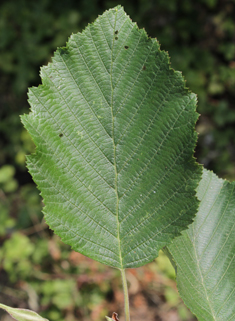 What are they?
The alders are deciduous trees or large bushes in the birch family (Betulaceae). They somewhat resemble birches in their male flowers which form long catkins, but the female flowers develop into hardened structures that resemble small pine cones. Male catkins are long, reddish or purple as they begin to elongate over winter, becoming yellow as they mature in late winter/early spring; they typically hang in clusters of three to six. The female flowers appear in a branched cluster at the base of the stalk that holds the male catkins and are cone-like in appearance. These cones are reddish brown at the flowering stage, becoming thickened, fleshy and green, then finally dark brown and stiffly wooden in texture. Male catkins drop as soon as the pollen is dispersed but female cones may remain on the tree for a year or more. Young twigs are tyically angled and distinctly three-sided, becoming rounded with age.
Where are they found?
Our native alder is a common tree of wetlands and along the banks of rivers and ditches. Other species are introduced and may be found where planted beside roads, in hedges or as shelter belts.
Identification
These trees are most easily told apart by their leaves and can be difficult to identify to species during the winter. However when not in leaf, some clues can be found by looking carefully at the buds, twigs and the size of the female cones.
European Alder Alnus glutinosa
Native and common throughout most of East Anglia in a range of wetland habitats, especially along the main rivers and in the Norfolk Broads. Also planted elsewhere in damp ground or in hedgerows. Flowers February to March. Leaves widest in the upper third, giving a broadly rounded tip. Cones relatively small, 10-32mm long and 10-25mm wide.
Leaf

Male flowers

Male & female flowers

Female cones

Winter bud

Winter bud

Bark
Grey Alder Alnus incana
Introduced from mainland Europe and occasionally planted as an amenity tree or in shelterbelts, hedges and damp field corners. Flowers February to March. Leaves ovate, widest in the middle and pointed at the tip; toothed and sometimes variably shallowly lobed. Cones small, 12-22mm long and 10-12mm wide.
Habit

Leaves

Leaf

Leaves

Winter buds

Winter bud
Italian Alder Alnus cordata
Introduced from mainland Europe and has been extensively planted as a shelterbelt around orchards and paddocks. Also occasionally seen as an amenity tree in parks. Flowers February to March. Leaves glossy, with a heart-shaped (cordate) base. Cones relatively large and elongate, 20-38mm long and 17-20mm wide.
Habit

Leaves

Female cones (above) with
cones of European Alder (below)

Winter branches

Winter bud

Bark