White Daisies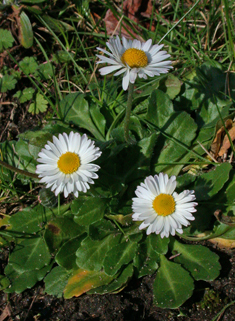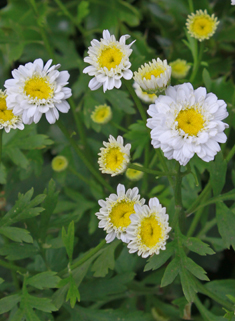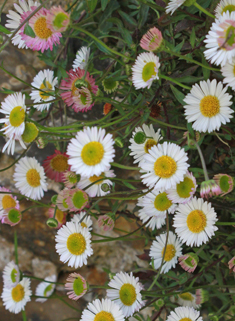 What are they?
The compound heads of small yellow florets and outer ring of white petals show these plants to be members of the daisy and dandelion family - the Asteraceae. These plants may be either annuals or perennials and are rather variable in their overall appearance. Most do not have noticeably scented foliage, unlike the mayweeds and chamomiles.
Where are they found?
The native species in this group tend to be plants of open, grassy places, with the Common Daisy probably being the most widespread and abundant broad-leaved plant in garden lawns. The non-native species may crop up on grassy roadsides and rough ground where garden waste has been dumped or on paving and walls and may spread themselves readily.
Identification
This group contains species that are not all closely related, so their general appearance - particularly of the leaves and growth style - will help with identification. As with many members of the Asteraceae, features of the phyllaries can be useful - those are the greenish bracts that surround the outside of the flowerhead.
Common Daisy Bellis perennis
Native. Widespread and abundant in all types of short grass and turf habitats, except where removed by weedkillers. Flowers more or less throughout the year with a peak period in April to May. Leaves clustered in basal rosettes with the flowerheads solitary on stems arising from the centres of the rosettes. Petals may be white or tinged with pink. Ornamental cultivars with large, 'double-flowered' heads are popular in municipal plantings in towns.
| | | | |
| --- | --- | --- | --- |
| | | | |
| Habit | Habit | Flowerhead | Flowerhead |
| | | | |
| Phyllaries | Leaf | Double form | Double form |
Mexican Fleabane Erigeron karvinskianus
Introduced from Mexico as a garden ornamental. Although there are few records in the region's county floras, this species is rapidly expanding its range and should be expected more or less anywhere that there are old walls or cracks in pavements for it to grow! Flowers June to August. Leaves simple or three-lobed, in both a basal rosette and along the wiry stems. Petals may be white or tinged with pink.
Habit

Habit

Flowerhead

Flowerhead

Phyllaries

Leaf

Leaf
Ox-eye Daisy Leucanthemum vulgare
Native perennial in chalky or neutral grassland but also widely introduced in wildflower plantings. Widespread and common. Flowers May to September. Leaves spoon-shaped at the base, linear along the stems and coarsely toothed or lobed, up to 8cm long. Flowerheads relatively large, 2.5-6cm across.
| | | |
| --- | --- | --- |
| | | |
| Habit | Flowerhead | Phyllaries |
| | | |
| Basal leaves | Stem leaf | Stem and leaf bases |
Shasta Daisy Leucanthemum x superbum
A horticultural hybrid, grown as a garden perennial and occasionally found where garden waste is dumped. Spreads readily by seed and is well established in some places, such as on coastal cliffs and on roadside banks. Flowers June to August. Lower leaves elliptic to oval, upper leaves narrower, shallowly toothed, up to 15cm long. Flowerheads large, 6-10cm across.
| | | | |
| --- | --- | --- | --- |
| | | | |
| Habit | Habit | Flowerheads | Leaf |
Feverfew Tanacetum parthenium
Introduced from southeast Europe as a herb and medicinal plant and long-established in urban and suburban areas on rough ground, pavement cracks and similar places. Flowers June to September. Leaves typically pale, yellowish-green in colour. Plants bushy with flowerheads 1.5-2.5cm across and clustered on branched stems. Foliage strongly aromatic. Flowers of cultivated forms are often double.
Habit

Habit

Flowerheads

Flowerheads

Phyllaries

Basal leaves

Stem leaf