Phacelias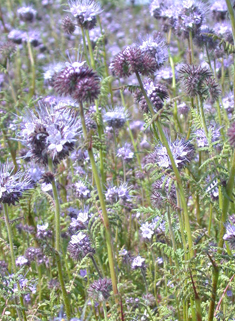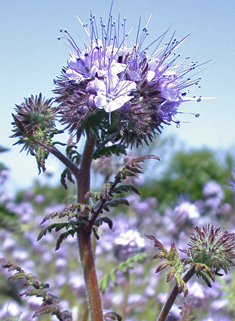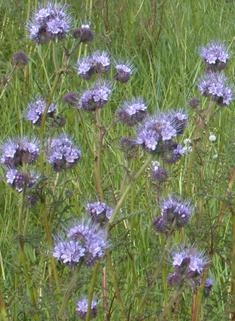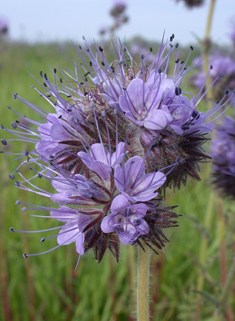 What are they?
The Phacelias, or Bee-balms, are a group of attractive plants from the Americas. Traditionally placed in the Hydrophyllaceae (waterleaves), these plants are generally now included in the Boraginaceae, along with such species as the forget-me-nots, Borage, heliotropes and comfreys.
Where are they found?
Tansy-leaved Phacelia is grown as an agricultural crop, as well as included in 'wildflower' seed mixes. Self-sown plants may be found on the margins of arable land or waste ground in the years following the cultivation of a crop.
Identification
The 'filigree' leaves and brilliant blue flowers with prominent stamens are distinctive.
Tansy-leaved Phacelia Phacelia tanacetifolia
Introduced from North America. Widely grown as an agricultural crop and odd plants are occasionally found on roadsides and disturbed ground where seed may have been spilt. Flowers June to September. Brilliant purple-blue flowers in 'scorpion-tail' heads, above finely-cut leaves.
| | | | |
| --- | --- | --- | --- |
| | | | |
| Habit | Flower spike | Flowers | Flower |
| | | | |
| Leaf | Leaf | Leaf close-up | Seedhead |