Figworts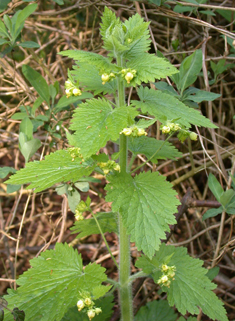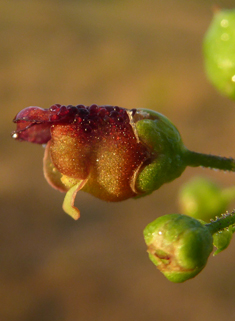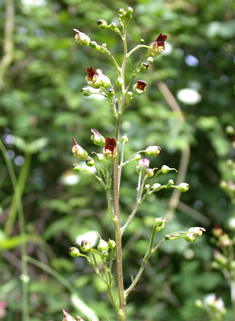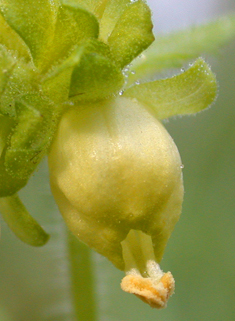 What are they?
This is a small group of species in the family Scrophulariaceae. This family once consisted of a large and highly variable number of species but has recently been reassessed, with many of the species being moved into other families. The figworts typically have rather small flowers that are carried in large clusters and are insect-pollinated. The leaves are arranged in opposite pairs and the stems are square in cross section, often with winged corners.
Where are they found?
Our native species tend to be most frequent bordering wetland areas or in damp woods, while introduced species more often turn up in human-influenced habitats such as roadsides, non-native woodland or urban locations.
Identification
The upright growth with often rather nettle-like, opposite leaves and square stems, topped with panicles of small flowers are distinctive and set figworts appart from other plants. Identifying the species requires noting leaf shape, stem details and flower colour. With some species, it is necessary to confirm identification by looking very closely at a little flap that sits inside the flower, on the upper side. This little flap is known as a staminode (a modified stamen) and its shape can help to determine the species. You might need to remove a single flower and open it flat to be able to see or photograph the staminode properly.
Common Figwort Scrophularia nodosa
Native in a wide range of habitats but most often in shady places along ditches and on damp ground. Flowers June to September. Leaves typically triangular or spear-shaped, with a squared off or only slightly rounded base. Stems more or less unwinged.
Water Figwort Scrophularia auriculata
Native in a wide range of damp habitats, including ditches and river banks. Flowers June to September. Leaves typically round-tipped and with a heart-shaped (cordate) base; leaf margins with blunt, rounded teeth. Stems strongly winged. The staminode has a rounded tip that is barely wider than long.
| | | | |
| --- | --- | --- | --- |
| | | | |
| Habit | Flowers | Flower | Staminode |
| | | | |
| Leaf | Leaf margin | Stem | Seed capsules |
Green Figwort Scrophularia umbrosa
Probably native along river banks but of uncertain origin and seemingly increasing at present. Only two locations in Suffolk, but quite widespread in the southern half of Norfolk, along the Whissey, Yare and tributaries of the Wensum. Flowers June to September. Leaves typically lance-shaped with a rounded base; leaf margins serrate. Stems very strongly winged. The staminode has an often notched tip that is much wider than long.
Habit

Flowers

Flowers

Staminode

Leaf

Leaf margin

Stem
Balm-leaved Figwort Scrophularia scorodonia
Native in south-west Britain but only a rare casual in East Anglia with a single record from Norfolk. Flowers June to August. Leaves rather like those of Lemon Balm (Melissa officinalis) in shape. Stems unwinged and clearly downy.
Yellow Figwort Scrophularia vernalis
Introduced from central Europe. Scattered at a number of sites throughout the region, mostly in shady, disturbed or human-influenced habitats. Flowers April to June. Rather nettle-like in appearance with downy leaves and stems. Flowers in small clusters in the leaf axils.
Habit

Habit

Flowers

Flower

Basal leaves

Leaf