Pink Daisies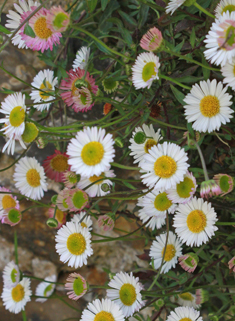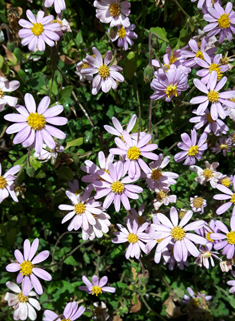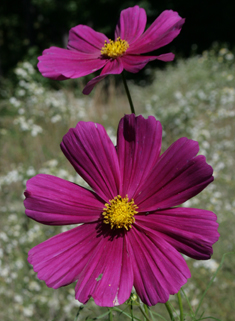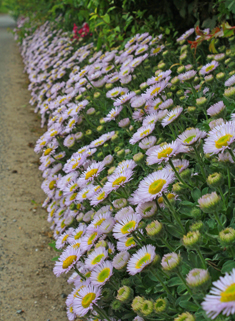 What are they?
The compound heads of small yellow florets and outer ring of coloured petals show these plants to be members of the daisy and dandelion family - the Asteraceae. These plants may be either annuals or perennials and are rather variable in their overall appearance. There are not too many pink-coloured species in this group so this is a page that covers a rather broad group of plants, though they are all members of the same family.
Where are they found?
These are all introduced species that are largely grown as garden ornamentals, so any that are found in the wider countryside. tend to be short-lived individuals that have self-seeded or are surviving from garden throw-outs. The two fleabanes differ, however, in being species that have become established in urban or suburban environments.
Identification
This group contains species that are not all loosely related, so their general appearance - particularly of the leaves and growth style - will help with identification. As with many members of the Asteraceae, features of the phyllaries can be useful - those are the greenish bracts that surround the outside of the flowerhead.
Mexican Fleabane Erigeron karvinskianus
Introduced from Mexico as a garden ornamental. Although there are few records in the region's county floras, this species is rapidly expanding its range and should be expected more or less anywhere that there are old walls or cracks in pavements for it to grow! Flowers June to August. Leaves simple or three-lobed, in both a basal rosette and along the wiry stems. Petals may be white or tinged with pink.
Habit

Habit

Flowerhead

Flowerhead

Phyllaries

Leaf

Leaf
Seaside Fleabane Erigeron glaucus
(Seaside Daisy) Introduced from western North America as a garden ornamental. A very popular garden plant near the coast, where it is tolerant of coastal winds and salt. Seeds itself freely and often appears on rough ground, cracks in paving, cliffs and urban habitats. Flowers May to August. Forms a low, dense mound of blue-green, slightly succulent leaves. Phyllaries densely covered in white hairs.
| | | |
| --- | --- | --- |
| | | |
| Habit | Flowerheads | Phyllaries |
| | | |
| Leaves | Leaf | Leaf |
New England Aster Symphyotrichum novi-angliae
(Hairy Michaelmas-daisy) Introduced from North America with a wide range of colour forms produced in cultivation. Only rarely recorded as an escape or garden throw-out in urban areas or on rough ground. Flowers September to October. Stems clearly hairy. Leaves 2-12cm long, typically rich green, lighter beneath; relatively broad, margins entire or with a few small teeth; bases strongly auricled and clasping the stem. Petals may be white or pink to purple or bluish in cultivated forms. Phyllaries narrow, strongly curved outwards, even in bud; hairy.
| | | | |
| --- | --- | --- | --- |
| | | | |
| Habit | Flowerhead | Flowerhead | Phyllaries |
| | | | |
| Phyllaries | Leaves | Leaf | Stem |
China Aster Callistephus chinensis
Introduced from China as a garden ornamental and grown in a wide range of colours. Recorded on a handful of occasions as escapes from cultivation or surviving for a short time where discarded. Flowers July to September. A branching, annual plant, growing to around 40cm in height. Flowers very variable in colour and in number of petals, included many-petalled, 'mophead' types. Phyllaries prominently spreading and broad-tipped.
| | | | |
| --- | --- | --- | --- |
| | | | |
| Habit | Flowerhead | Phyllaries | Leaf |
Felicia petiolata
Introduced from south-east Africa as a garden ornamental. A relative newcomer to the UK but already appearing as an escape from cultivation or where spreading from neighbouring gardens. Flowers July to September. A trailing or scrambling plant that can produce long stems which scramble up through nearby vegetation. Flowers pale lilac-pink.
Habit

Habit

Flowerhead

Phyllaries

Leaves

Leaf
Mexican Cosmos Cosmos bipinnatus
Introduced from Central America as a garden ornamental and occasionally found as a survivor from previous plantings or occasionally when self-seeded. This plant has become an invasive problem in some parts of the world but our winters are currently too cold for it. Flowers July to September. May grow to over a metre in height with flowers either white or various shades of pink and 4.5-9cm in diameter, typically with eight petals. Leaves very deeply cut into narrow, linear strands.
Flowerheads

Flowerhead

Flowerhead

Flower bud

Phyllaries

Leaf

Leaf