The Actinidia Family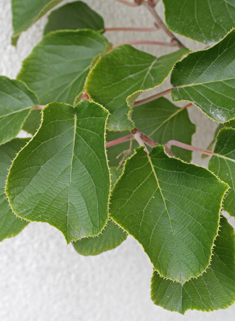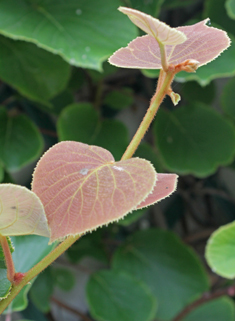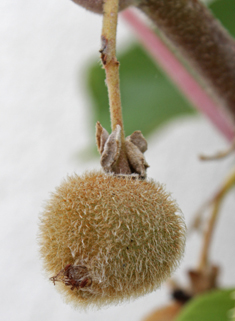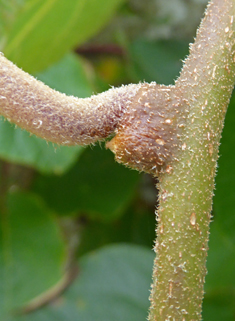 What are they?
This is a small group of climbing plants, native to eastern Asia and introduced to the UK as horticultural novelties or ornamentals. They are mostly rather vigorous growers and tend to carry male and female flowers on separate plants. Few are likely to be found in the wild in the UK.
Where are they found?
This is a family with no native species in the UK, so any odd plants that may be found are likely to be relics of cultivation or plants surviving where garden waste has been dumped on rough ground or roadsides.
Identification
Just a single species is included in the records for our region, which is easily recognised by it rounded, hairy leaves and red-hairy stems.
Chinese Gooseberry Actinidia deliciosa
(Kiwi-fruit) Introduced from eastern Asia as a garden ornamental and more recently for its edible fruit. Currently just a single record for East Anglia, of a self-sown seedling in Norfolk. Flowers May to June. A very vigorous species, climbing by means of tightly twining stems. The white flowers have both male and female parts but are functionally dioicious, meaning that separate 'male' and 'female' plants are required for effective cross-pollination. The large, rounded, furry leaves and red, bristly hairs on the young stems are distinctive. This species was originally grown as an ornamental but has become much better known as a fruiting plant. The fruits are known as Kiwi Fruits because the species has been cultivated for its fruit in New Zealand, from where is was imported to the UK.
Habit

Leaves

Leaf

Fruit

Young growth

Twining stem

Winter bud