Junipers & Allies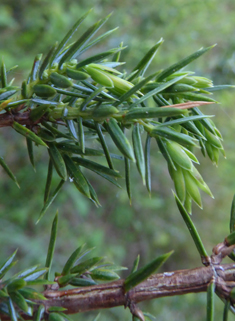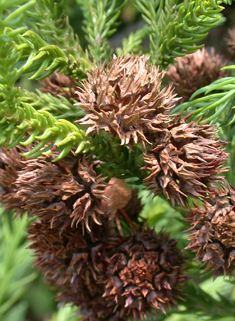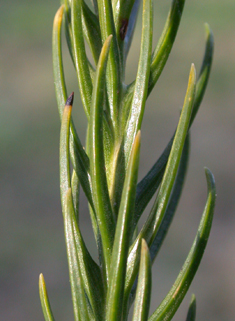 What are they?
Other than all being conifers, these plants are not necessarily species that are closely related. Rather, they are species that have leaves that differ from those of other conifers in being rather needle-like overall (ie rather sharply pointed), but broadening out at the base and often overlapping each other close to the stem. Most of the species in this group will be junipers - a group that also has species with flattened, scale-like leaves that resemble those of the cypresses - and some junipers have both types of foliage on a single plant. Junipers further differ from most other conifers in having a fruit like a berry, rather than a dry cone.
This group also covers the Japanese Red-cedar, a tree that also has a number of ornamental varieties with leaves that can differ markedly from the original species. As with the junipers, this is because they have foliage that differs in young plants from those seen at maturity and horticulturalists have propogated from these 'juvenile' forms to produce varieties that never attain the adult-type foliage.
Where are they found?
There are no species in this group that are native to East Anglia, so any plants found will have been planted or perhaps self-seeded. Thus, they are likely to be found in managed sites such as parks and roadsides, or in forestry woodland.
Identification
There are few species in this group and they should be readily identified by their foliage throughout the year - fruits or cones also help when present. If you have a juniper-like plant with tightly overlapping, scale-like leaves that you don't see here, it is worth checking the cypress page, too.
Common Juniper Juniperus communis
Native elsewhere in the UK but only known from planted individuals in East Anglia. Rare, but often long-lived at a handful of sites. A variable species but usually distinctive in its very sharply pointed needles that havev a single, broad, whitish stripe taking up most of the upper side. Berries start green and ripen bluish with a light grey bloom. Natural growth produces a bushy plant to around three metres in height, but cultivated forms can be very tightly upright, while some forms cultivated from mountain populations can be prostrate and carpet the ground.
Habit

Habit

Leaves

Leaves

Young fruit

Young fruit

Ripe fruit
Chinese Juniper Juniperus chinensis
Introduced from eastern Asia. Widespread and frequent in churchyards, parks and municipal plantings. Although Chinese Juniper can form an upright tree, tihs species is most often seen as a variety of semi-prostrate, cultivated varieties. Foliage carried on ascending, spreading branches, with leaves in three-dimentional sprays. Leaves dull grey-green or blue-green and densely overlapping. Fruit a typical, blue-grey, juniper berry.
Habit

Habit

Leaves

Leaves

Leaves

Ripe fruit
Japanese Red-cedar Cryptomeria japonica
Introduced from Asia. The original tree form with adult-type foliage is occasionally grown as an ornamental in parks or trialed in forestry blocks. Garden forms with juvenile-type foliage occasionally appear as garden throw-outs or survivors on rough ground and roadsides. These are usually of the cultivar 'Elegans' and the whole plant turns a bronze-purple colour in winter.
| | | | |
| --- | --- | --- | --- |
| | | | |
| Leaves | Leaves | Leaves | Juvenile leaves |
| | | | |
| Male flowers | Young cones | Mature cone | Bark |